BBus (Accounting) CPA
Executive Director – Business Technology Services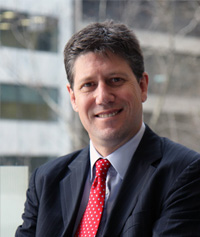 Cameron came from the State Taxation Office and joined the SRO in 1992. He has since held a number of senior management positions including Project Manager on the Ballarat relocation project, Branch Manager of Finance and Administration & Debt Management, and more recently nine years as the Chief Financial Officer.
After serving for four years as Executive Director Corporate Services, comprising the Finance & Administration and Information Technology areas of the SRO, Cameron was appointed Executive Director of the Business Technology Division in October 2016 (previously known as Information Technology).
The Business Technology Services Division provides a range of business and technology services that enables the delivery of key business outputs including support, maintenance and development of core infrastructure and business applications, customer support and hosting services, and IT program and project management. Of particular significance is the Digital Transformation program which commenced implementation in 2016. This program will transform the way we interact and do business with our large customer base particularly in land tax by streamlining and digitising transactions.