BBus (Accounting) EMPA
Executive Director – Operations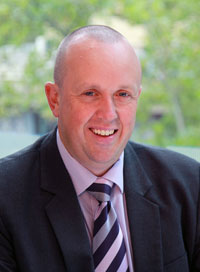 Craig brought a wealth of leadership and project experience when he joined our Operations Division in 2001. He contributed to transitioning our functions to the Ballarat office in 2002, and since then has worked in a variety of management roles supporting major taxation initiatives.
Most recently, Craig was tasked with managing the successful implementation of the Fire Services Property Levy in 2012. This two-year project, his most significant and challenging to date, represented a major administrative reform involving 2.7 million property owners and 79 local governments across Victoria.
In December 2014, he was appointed Acting Executive Director Operations to oversee the collection and administration of our key revenue lines: payroll tax, land tax, congestion levy, returns assessing, duties, Fire Services Property Levy, Growth Areas Infrastructure Contribution and the Metropolitan Planning Levy. Additionally, the Division administers grants and subsidies, unclaimed moneys, the First Home Owner Grant, and liquor subsidies.
Craig, who works across Melbourne and Ballarat offices, holds a Bachelor of Business (Accounting) and Executive Master of Public Administration.