Executive Director – Business Technology Services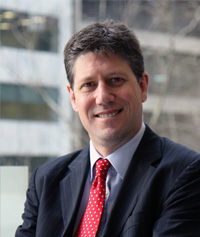 Prior to the SRO, Cameron Aughterson worked at the State Taxation Office, which amalgamated with the Stamp Duties Office in April 1992 to become the State Revenue Office. He held a number of senior management positions, including nine years as Chief Financial Officer. After four years as Executive Director Corporate Services, comprising the finance, administration and information technology areas, Cameron's focus shifted to Business Technology Services, as the Executive Director in October 2016.
Business Technology Services provides a range of services, including supporting, maintaining and developing core infrastructure and business applications, customer support and hosting services, and manages IT program and projects.
Under Cameron's leadership, the SRO continues implementing the digital transformation program, which started in 2016 and is transforming the way we interact with our large customer base, particularly by streamlining and digitising land tax transactions.
Cameron has a Bachelor of Business (Accounting) and is a Certified Practising Accountant (CPA).