We offer a variety of ways to pay your land tax - credit card, BPAY, at a Westpac branch, and via AutoPay instalments. We can also arrange payment plans for overdue assessments.
To receive and pay your assessments online, register for BPAY View.
1
Gather your assessment notice
Please have your assessment notice handy as it contains important information you need to pay the assessment.
Credit card
When paying by credit card:
A card payment fee of 0.54 per cent applies to all credit card transactions (fees are not charged for other payment methods).
You need a current Visa or Mastercard.
Your State Revenue Office customer number and reference number. Your customer number is found at the top right of your assessment notice while your reference number (the number following 'Ref:') can be found at the bottom of each of the payment methods - see examples below.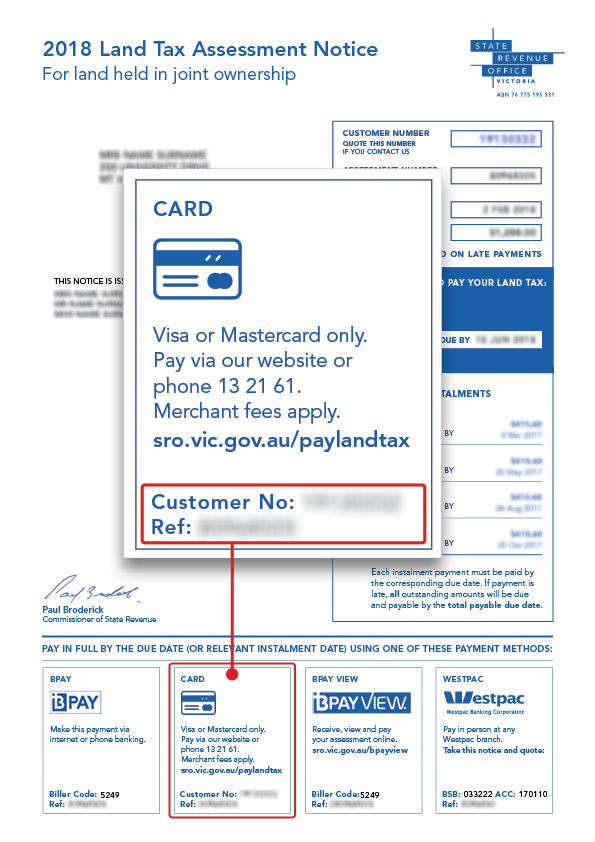 BPAY
​Pay directly from your cheque or savings account using your financial institution's internet or telephone service.
When paying by BPAY:
Have the State Revenue Office biller code and reference ('Ref:') number, which appear at the bottom left of your assessment, handy.
For more information about using BPAY, contact your financial institution.
This example shows you where you can find the biller code and reference number on your assessment.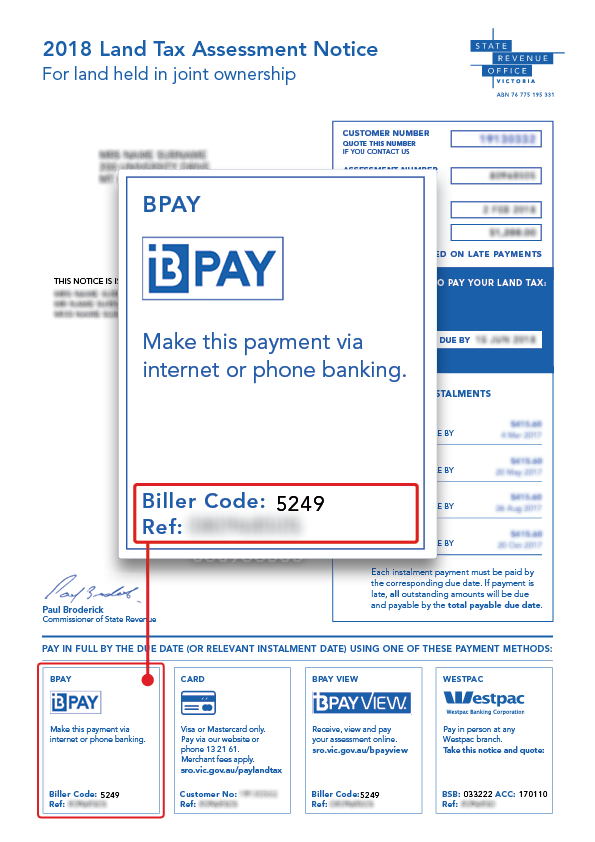 Westpac Bank
If you deposit over the counter at a Westpac branch, take your assessment with you and provide the teller with the following information:
BSB: 033 222
Account number: 170110 (SRO Land Tax Revenue Account)
Assessment number: First seven (7) digits only
​The image below shows you where to find the assessment number.
While payment can be made at any bank, other banks may charge a fee.
This year, alongside our existing system, we are trialling a new system for paying land tax by instalments.
Refer to your assessment notice to see whether you have access to scheduled instalments or the trial of AutoPay Instalments.
Scheduled Instalments
If the instalments section of your assessment looks like the image below, you have access to our existing system enabling you to pay in up to four instalments on predetermined dates. Check your assessment notice for your payment amounts and dates.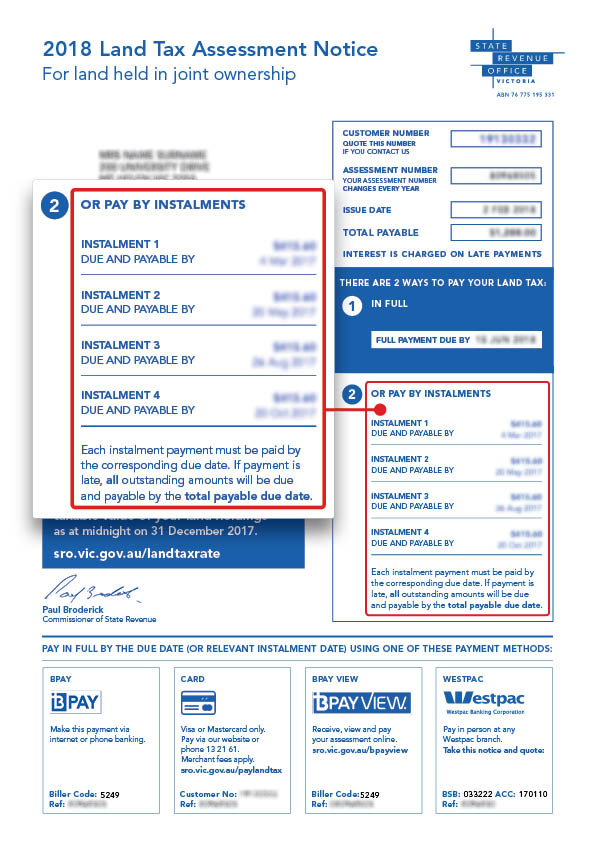 To use this system, simply pay the first instalment amount by its due date listed on your assessment notice. Once you have made this payment, our system recognises that you are paying in instalments and we will send you payment reminders before each instalment is due.
Each instalment payment must be made by the corresponding due date. If payment is late, all outstanding amounts will be due and payable by the 'full payment' due date.
AutoPay Instalments
If the instalments section of your assessment looks like the image below, you can set up a payment schedule in AutoPay Instalments.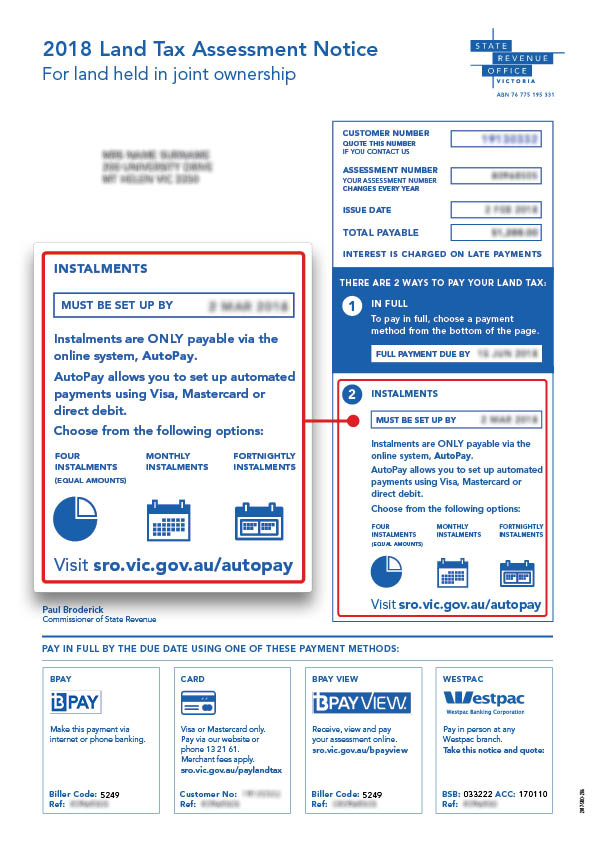 With AutoPay instalments, payments can be scheduled:
Fortnightly,
Monthly, or
In four equal instalments.
This service is available daily between 6am and 9.30pm Australian Eastern Standard Time.
Create a payment plan using AutoPay Instalments
4
Payment plans for overdue amounts
If you are seeking an arrangement for less than six months to pay an overdue assessment by instalments, please phone 13 21 61. For arrangements longer than six months, please: